TERMINE
Interview with Mick Box - Uriah Heep
---
For our English speaking friends the interview is posted in its original version. Also you can find here a German press report translated to English language :) The German version you can find here
Uriah Heep bildeten Anfang der 70er mit Led Zeppelin, Black Sabbath und Deep Purple die hart nach vorne rockende Quadriga des Heavy Rock und beeinflussten maßgeblich den "Classic Rock" – Sound unzähliger Bands nach ihnen. Die lebendigsten aus dieser Quadriga des Heavy Rock scheinen heute Uriah Heep zu sein, die immer noch mit mehr als 150 Konzerten pro Jahr unermüdlich um den Globus touren. Die jüngsten Veröffentlichungen wie "Wake The Sleeper" und "Into The Wild" haben die Frische und Power einer gerade erst kürzlich gegründeten Band, was die Band bei einem ihrer Konzerte im Rahmen ihrer Deutschlandtournee in Nürnberg im Hirsch am 17.5. auch eindrucksvoll bewies.
Mick "The Wizard" Box , der mit seiner unverwechselbaren "speaking wah-wah-guitar" den Gruppensound von Uriah Heep grundlegend prägte, versprach Anton"Judy"Seutter nach dem Konzert die Interviewfragen per e-mail zu beantworten.
Mick Box im Gespräch mit Anton Seutter
The song "Lady In Black" is an evergreen all around the world. Have you ever met her ?
No I haven't met her! Though I have met many who think they are her!
What's the story behind the song ?
Ken Hensley our old keyboard player wrote this song. He was looking out of his hotel window when he saw from the back a LIB walking along the street. This triggered him to write the song, and the rest was from his imagination.
Another all-time classic song and a signature song for Hard Rock and Heavy Metal is "Gypsy". What's the story behind the song, did you fell in love with a gypsy queen, when you were "only 17" ?
This started with the earthy guitar riff, and the song became a vehicle for us to use our harmonies almost as another instrument. Lyrically Gypsies were always fascinating and interesting to write about with their nomadic lifestyle.
These songs and others like "Easy livin" or "Stealin" - just to name a few - stood the test of time very well. Why is that ?
I think they were just very accessible to a lot of people at the same time. The songs just seem to resonate with people, which is great. I thought it was just the time and year that they were written, but they have sure stood the test of time, and people still love hearing them in the live arena.
Your new album "Into the wild" does very well with the best charts entry since the heydays in the 70s, how can you explain that ?"Into the wild" seems to me like a partner in crime of the "Wake the sleeper" album, you find lots of songs like "What kind of god",
Shadow", "Wake the sleeper", "I can see you" "Into the wild" and even a classic hit single like " Nail on the head" on them, that can easily compete with your songs of the 70s albums. Please tell us your secret, did you find something like a musicians' stone or are you regularly invited to the "Magicians birthday", where you can listen to the "orchid orchestra" ?
ITW was a natural successor to WTS. There really is no secret, but we do have a passion and energy for what we do, and I think this shines through, in our writing, recording and live performences.
You are an idol for a many guitar players me included, who was your guitar hero when you were a kid or teenager ?
Initially Les Paul & Mary Ford, Django Reinhardt, Tal Farlowe and Barney Kessel. If I have one guitar hero though it will be Jeff beck.
In my guitar lessons a lot of kids ask me how to become a Rockstar and a guitar hero. I'm always answering, next time I meet you, I'm going to ask you. What advice can you give them ? Go to a casting show ??
It is all about the music. Make the music your first priority and driving force, and if the other stuff comes along then so be it, but you have to care passionately about the music at all times. Try to develop your own style, sound and personality, as this is very important to stand out from everyone else.
Do you have children and do they make music, too ?
I have a 33 year old boy called Myki who lives in the USA and he is a brilliant drummer. I also have a 10 year old boy called Romeo, who loves music, but right now is fully immersed in all kinds of sports. Rugby being his favourite right now!
How is it to be a Rockstar and how can we picture it ? Do you have a big limousine, a mansion with swimming pool etc. ?
Those things never impressed me to be honest. I like the simple things in life, and I think to keep things simple is the secret of a lot of happiness. I came into this business to be a musician for life, and my priority was never money, If that came then great, but if it didn't, I still had my music. Music has always been my biggest motivator.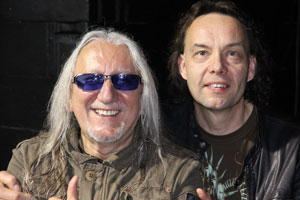 How does it feel to be the last founding member of Uriah Heep ?
Pretty good actually. I started the band with David Byron and to have lasted this long is amazing.
Like many others of your generation you had to cope with tragic deaths of band members, do you think the R'n'R or Popmusic business is still addicted to drugs to the present day ?
The problem was back in the late 60's, early 70's, was that everybody in the music business was living that lifestyle. The only real time, you got the measure of what you were doing, was when people started dying and heading to heaven. We were poorly informed on the dangers of such activities, and there was nowhere for people to seek help, like they have places now. Hence the casualties! I think there is sure to be many in the music business that still indulge, otherwise these self help clinics would not be so full up, or able to survive.
Where do you live and where do your band members of UH live ?
Bernie and I live in London, Russell lives outside of London, Phil lives on the South East coast and trevor lives in the North of England.
If one thinks of Hard Rock and Heavy Metal you picture a man's world with Harleys, ice-cooled beer, the lonesome wolf etc. Are there women working with UH ?
Yes our Front of House mixer is Charlotte Evans and she has been with us over 25 years.
What are you doing in your spare time, do you have hobbies ?
When I come home I have to leave my rock star's hat at the door, and put on my family hat. I am away so much, that when I come home, my family demand I spend every minute I can with them, and I love it. I take my son to Football, Rugby, Swimming, Tennis, Golf and all the other sport events he attends, and I try and spend as much time as I can with my wife, going out to restaurants, the cinema or just chilling out at home. I try and get to the gym, and I have a dog that I will walk for 2 hours a day. I will also try and take care of my business and try and write some music or a lyric every day.
Do you listen to music that is different from Rock music like Classic or Jazz etc. Can you name some artists that you like ?
To give you an idea, I have listened to this week, Neil Young, Joe Walsh, Jeff Beck, The Tea Party, Free, Beth Nielson Chapman, Black Country Communion, Buddy Holly, Cat Stevens, Chet Atkins, Crowded House, Graham Nash, Larry Carlton & Steve Luthaker, Mary Chapin Carpenter, Roger Waters, Wes Montgomery, Eddie Cochrane, The Who and so much more....!
Are there new Rock bands that you like ?
Foo Fighters, Joe Bonamassa, Black Country Communion, John 5, Kings of Leon, Muse, Porcupine Tree, Trivium, and Wolfmother.
Do you think your music has still an impact on a younger audience ?
After our recent 2 month tour or Europe in support of the ITW CD yes! There has been a very young audience attending, that are getting the Heep bug, which is great.
You are touring the whole world, but Germany of all countries is loving you specially. Why is that ?
Germany was the first country to warm to Uriah Heep back in the 70's, way before any other country, so consequently Germany is a very special place for us.
Did you watch the Royal Wedding with a good cup of british tea ?
We saw it as we were checking into a hotel, as all of the staff were in the bar watching it on TV. So we joined them!
What do you love most about Germany, what less ? ( lack of tea ?…;-)
Tea is a wonderful drink, and it was what I was brought up on by my Mother. I try to drink it wherever I can, and I have to thank you for the wonderful present of tea bags you gave me, when I saw you recently. That was very kind of you, and from that moment on, I was never without a tea bag when i wanted a cup of tea, which was very cool.Germany has so much to offer, with good food, beer and wine, wonderful countryside, big cities and best of all wonderful rock audiences. They love their rock music, as much as we love playing it.
Can we hope that UH is playing a concert the coming year in my hometown Regensburg by any chance even showing my students how to play UH Songs ?
We need the promoters to book us in Regensburg for a show so fingers crossed.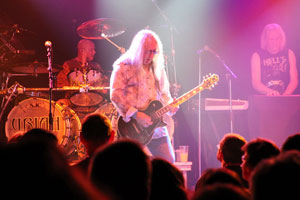 To climb the rock of my "House on the Rock" school you have to walk 75 steps, it would be great to have you there inaugurating a"Mick Box step of fame".
That would be nice, and maybe one day that will be possible.
Maybe it helps that UH gets the more than deserved admittance to the R'n'R Hall of Fame.
Anyway a good cuppa is always waiting for you in Regensburg.
Now that is nice to know :-)
Thank you for answering the questions so patiently!
Press report from Regensburg, Bavaria / "Mittelbayerische Zeitung" 7/30/2011
The "Heep-Virus": Judy likes to bring the band to Regensburg
Mick Box and his band "Uriah Heep": English Rockband is flying high again like in their heydays 40 years ago.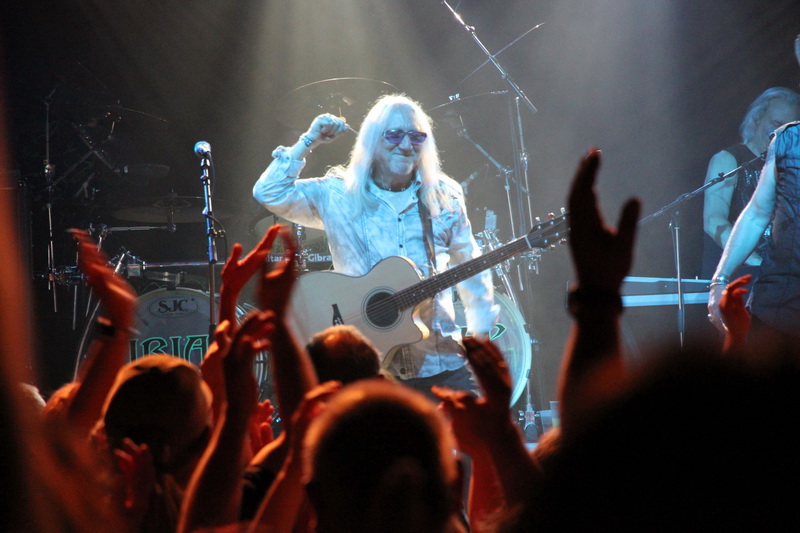 Perennial axeman with Heep: Mick Box at the venue "Hirsch " in Nuremberg 5/17/2011
Written by Fred Filkorn, MZ

Regensburg, Germany. Anton "Judy" Seutter is a  child of  Rock'n'Roll. Like many others he learnt by his elder brother about the band: "My elder brother got himself  Uriah Heep's first Album " Very 'eavy, very umble" when I was at the age of nine." Before gaining fame in the UK, the British Hard Rock legend was already charting in Germany in the early 70ties with songs like "Gypsy", "Lady in Black" or  "Easy Livin'". "Back then 1972 when UH played Regensburg's RT- Concert Hall and not to be allowed to go there made me irrevocable to a dedicated follower of the band", recalls the fifty-year-old "heep"-ster.
As it was all about to earn a living he followed his destiny faithfully and studied classical guitar und violoncello in Augsburg. Finally he was to become a music-teacher with a lectureship in guitar for teachers-in-training at the University of Regensburg doing this job for almost 20 years now. "To be able to motivate your students you have to play and love the music they like, that's for sure", Seutter says.
Legends at the R'n'R - Highschool
In his Music School "TheHouse on the Rock" – "doors open" since 2004 - he aims to promote the spirit and history of R'n'R " not to let young R'n'R lovers misbelieving the whole Rock thing started only with Metallica or Linkin Park. "Hence I invite again and again true maestros in my "R'n'R-Highschool".
Last Spring American Blues professor David Evans a friend of the great late Al Wilson of Canned Heat delighted his audience there. The impressively at some former vineyard hills sited Music School was like moving from the Danube to the good old mighty Mississippi. The year before the Rock School welcomed the south-African "guitar-hero" Blondie Chaplin a band member of the Beach Boys from 1972 to 1973 after then a tour member and a studio musician of the Rolling Stones to the day.
And now Anton "Judy" would like to have Mick Box climbing the stairs of the "HouseOnTheRock". Since the early 90ties he stays in touch with Mick Box. Actually he wanted to publish a UH songbook including faithfully transcribed solos of the band's "guitar wizard" and Mick Box agreed to help.
"But the publisher EMI got wind of the project and released much faster than I could", regrets Judy.
US-Tour nearly sold out
Anyway the hook – orientated music of the British Hard and Prog Rock band had a big influence on him from the start: "The unusual architecture of the songs , singing in harmonies like the Beach Boys and a virtuoso but at the same time a team - playing guitar were unique and something really new in Hard Rock."
Since a few years now after a period with ups and downs with only sporadic releases the band is successfully back on the scene. Their new  album "Into The Wild" hits not only the "Nail On The Head" like the single is named but  as well the charts again, the first US-Tour after 2002 is nearly sold out.
Judy looked and saw  the re-newed popularity of  Heep  as he went to a concert in Nuernberg in May: "Before going on stage the musicians had a long lasting signing session in a german shopping centre with queues of their fans. Later the venue was packed and the air was burning – a bunch of fans had to give up their "pole position" in front of stage to avoid collapsing from dizziness. As the band was singing 'Lady in Black' there was a  grave atmosphere like in a soccer arena. Playing 'Free'n'easy' the band had a lot of young people onstage banging their heads and playing air guitar. For the drummer the crowd sang 'Happy Birthday" like a family would do".
Mick Box is very positive about Uriah Heep with their 70ties sound having an impact again on young people : "After touring two month i can say that the young generation is infected by the "Heep- Virus".
After the gig Judy went and saw the band  backstage. With real English Tea as a present and the promise to dedicate Mick Box  a "Step of Fame" in the 75 steps way up to the "House on the Rock" , he wanted to convince the British Band to come to the City of Regensburg. "The tea was good vibrations and I hope we can give Uriah Heep a warm welcome in Regensburg 2012," Judy reckons.
Fotos: Bernhard "Bingo" Schmid